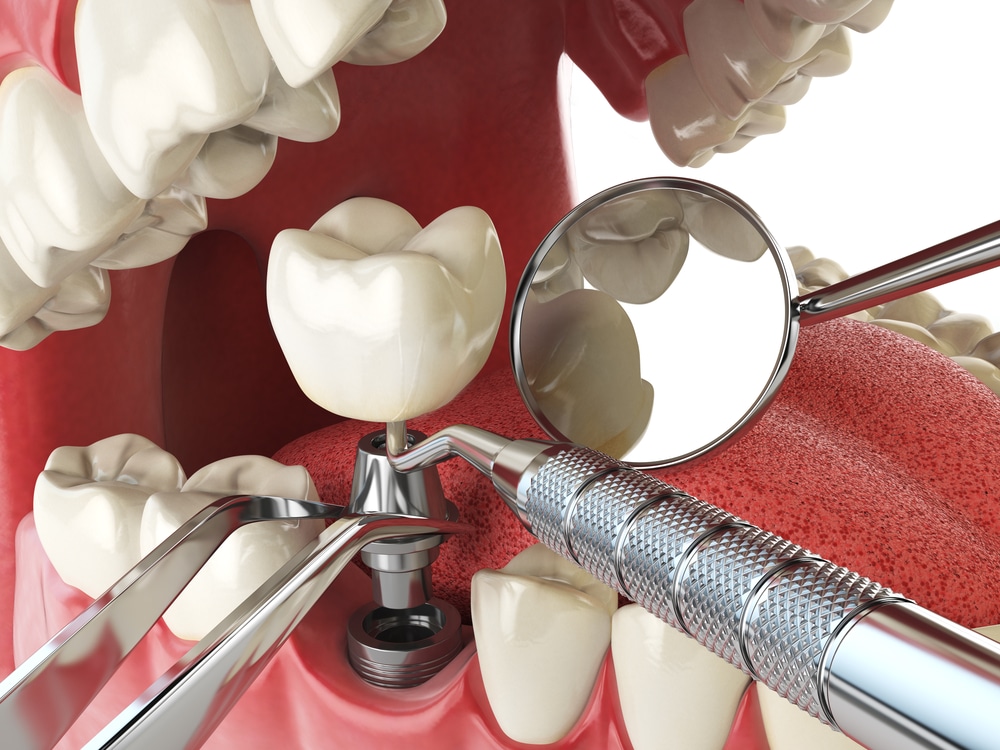 Missing a tooth or even multiple teeth can harm not only the confidence you have in your smile but also the overall health of your smile. When we have missing teeth, our jaw bone and tissues in that area aren't being stimulated from chewing and talking. At Dental Solutions of Mississippi, we offer a permanent solution to our patients to replace a missing tooth called a dental implant. If you want dental implants in Canton, schedule a consultation with Dr. Ruth Roach Morgan or Dr. Jessica Morgan Vaughn today.
What is a Dental Implant?
Dental implants are artificial tooth roots that we surgically place into the jawbone of our patients who have lost their natural teeth. We commonly use dental implants to replace missing teeth, but we can also use them to restore damaged teeth or fill gaps between existing teeth.
There are two main parts of a dental implant that work together to replace the gaps in your smile, the chosen artificial restoration and the implant itself.
Restoration:

We have artificial restorations, whether you're missing one tooth or multiple. A single-tooth dental implant calls for one custom-made artificial tooth that will fill the gap in your teeth. For multiple teeth, we offer dental bridges, a row of artificial teeth attached and secured onto the implant. Restorations are made in a dental lab and will be placed after the implant has healed.

Implant:

This part of the dental implant is surgically placed into your jawbone to act as the root of your new artificial tooth or teeth. For a single-tooth restoration, you only need one implant; if we use a dental bridge, we use more implants. The implant is made of titanium to provide a strong foundation for the tooth, and it can sustain all chewing pressure.
Implant Benefits
There are many reasons why people choose to get dental implants instead of traditional dentures. Here are some of the benefits of getting dental implants.
Artificial teeth are made of porcelain, giving them an enamel-like appearance and strength to withstand decay.

Dental implants are a permanent solution to a missing tooth. 

Other than standard cleanings, dental implants require no additional care.

Titanium implant allows stimulation to the bone and surrounding tissues preventing deterioration.

Artificial teeth look and feel entirely natural, making it almost impossible for people to tell it's a fake tooth.

Dental implants improve oral health by allowing you to eat and speak properly. 

Implants boost your confidence because you will feel less self-conscious and start to smile more.

They are meant to last a lifetime!
Are Dental Implants Right for Me?
If you want dental implants, you will first need to see if you are a good candidate. You should schedule a consultation appointment. During the consultation, we will evaluate your oral health and determine whether you are a dental implant candidate. If you are a good candidate, we will perform a diagnostic exam to identify any issues that we should address before surgery. We will then create a treatment plan that explains what to expect after the procedure.
If you have bone loss in your jaw due to deterioration from lack of stimulation, we may recommend a bone graft. A bone graft is a surgical procedure in which bone is taken from one area of the body and placed in another. In dentistry, we use bone grafts to rebuild your jawbone so that there is enough density to hold the dental implant securely.
High-Quality Dental Implants in Canton
If you are in Canton, Mississippi, or any surrounding area and would like to learn more about the dental implant process and how our dental team at Dental Solutions of Mississippi can help you, don't hesitate to contact us. Dental implants are new dental technology that people worldwide are benefiting from, and you can benefit from them too!